HAPPY SPRING! TIME TO GO LOOK FOR A HOME OR SELL ONE. BUT BEFORE YOU LIST OR BUY ANY HOME, GET A PRE-LISTING APPRAISAL OR A PRE-PURCHASE APPRAISAL. BEST MONEY YOU WILL EVER SPEND TO MAKE SURE YOU ARE MAKING THE RIGHT DECISION!
Our Specialties & Experience Include: Lake Lanier, Golf Course, Private Party Appraisal Services. We work with Buyers and Sellers regularly who order their own appraisals for peace of mind before placing their home on the market or before placing an offer on a home. Link below gives you more details as to why Pre-Listing or Current Listing Appraisals are worth their weight in Gold in "Preparing your Home for Sale" and reducing the chance the Bank's Appraisal comes in UNDER your Contract Price. Consider it just as valuable as new paint, carpet, appliances...Maybe MORE!
Honored to Receive the Hall County Board of Realtors Affiliate Workhorse Award, for helping the Board with updating their website and brining them on board with Social Media Sites. Thanks guys!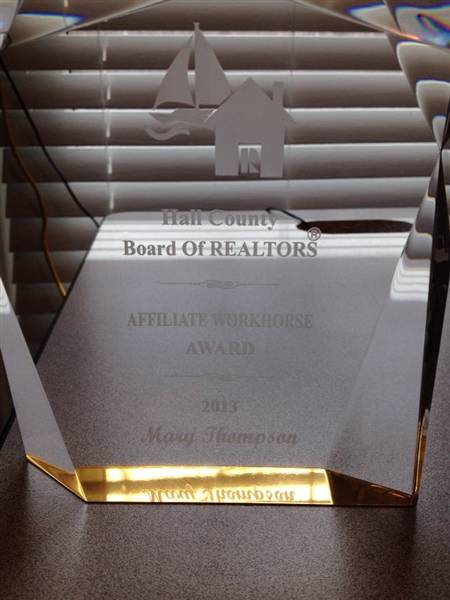 ATTN LAKE OWNERS: Hall County is doing an equalization evaluation of all Lakefront Homes - of course in the hopes of increasing your Taxes. They are doing Exterior only appraisals and based upon the Fee they are paying GMASS to do roughly 6500 reports, they are paying the appraisers $50.00 per home or appraisal report. No way a proper evaluation can be made at this price OR by doing exterior only reports. For some of you this may be GOOD news as valuations may be lower than expected, due to lack of experience and lack of interior inspections.
For others this may be BAD news as some appraisers consider most lakefront sites equal as long as they have boat dock permits and docks in place. (Remember your dock is PERSONAL PROPERTY and should not be taxed as REAL Estate Property...but they are saying they will tax your boat dock!) Also the lake is UP and has been for most of the past year. Those of you who have water NOW but do not when the lake is down, will most certainly be OVER Assessed!
Be aware that these new valuations are set to hit you by May 2014 and they may be WAY off the mark when it comes to the actual value of your Lake Lanier home.
If you need an experienced Lake Lanier Appraiser to REBUT these valuations you know who to call!
http://www.hallcounty.org/news/full.asp?ID=2359
http://www.gainesvilletimes.com/section/6/article/96612/
http://www.marytappraisals.com/Pre-ListingAppraisals
Click below for Lake Levels at a glance.
The best money you can spend as a Seller is to Get a PreListing Appraisal. Both for negotiations and ammunition, should the buyers lender have an appraisal that you do not agree with!
As a BUYER it is also very WISE to get an appraisal BEFORE you make an offer on any home! Do NOT overpay for that home! Especially CASH buyers, where no loan is involved, get an appraisal first!
** DO YOU KNOW WHAT THE CORRECT SQUARE FOOTAGE OF YOUR HOME IS? WE CAN PROVIDE YOU WITH A PROFESSIONAL SKETCH AND FLOOR PLAN OF YOUR HOME WHICH CAN BE INCLUDED IN THE MARKETING OF YOUR HOME. Courthouse Records are typically WRONG and Square Footage has a direct impact on value! Contact us today about having a Sketch done on your home. You will be glad you did! Here are some Samples of Sketches that we can do for you!
Gainesville Times Article Link below, about Lake Lanier Values as well as overall Home Values, written by Jeff Gill. Yours Truly spotlighted while conducting a Lake Home Appraisal, our Specialty!
http://www.gainesvilletimes.com/section/6/article/91878/
I am very proud to have been elected to and will serve on the 2014 Board of the Hall County BOARD of Realtors.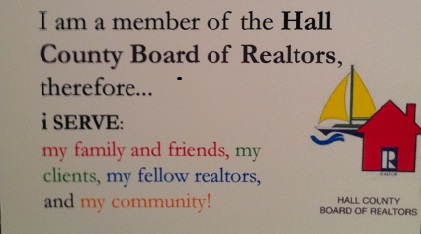 UAD compliant Appraisal Reports; How this Affects YOU and Your Realtor if you have one.
Fannie and Freddie want standardization in appraisal reporting. Any loans involving Fannie or Freddie, will have appraisals reports completed in UAD Format. (Uniform Appraisal Dataset). FHA to follow suit on this format.
Please See BLOG on this subject to REALTORS, indicating some of the changes and what we need from them. If you have a Realtor, pass this along please! It will help you, the homeowner if you are listing your home with them.
The appraisals will include many codes that will make reading the reports difficult. Rather than being user friendly in describing Quality and Condition of your home, codes will be used, ie: Q-2, C-2, etc. In all of our reports that go to lenders, we will be providing detailed descriptions of what these various codes mean so that you and they will understand the report in layman's terms.
Any report we complete for an individual will be completed the way we always have so you can clearly understand the report. The UAD is only required for lenders who are providing loans that will be sold to Fannie & Freddie.
**Golf Course Properties we have appraised include homes in: Royal Lakes, Chateau Elan, Hamilton Mill, Polo Fields, Sugarloaf Country Club, Country Club of the South, White Columns, etc. Golf course homes have their own unique attributes just like Lakefront homes. You have to understand the site values based upon views, location on the course; Hole, Green, Sand Trap, Fairway, Lake, etc.
Pink Ladders featured yours truly in their newsletter.. How I climbed that Ladder to Success
QUALIFICATIONS: Mary is a Certified Appraiser with 20 years of appraisal experience, She has a proven track record in the area for providing professional, quality appraisal reports for both lenders and individuals.
Mary was inducted into the Who's Who of Business Professionals for her work in the appraisal business and for her success in the founding of her own company 14 years ago. Mary and husband Chuck, also an appraiser work together out of their office in Flowery Branch, GA


Through this web site, you can perform a number of tasks. Ordering an appraisal is just a click of a button away. Or, spend some time and find out a bit more about the appraisal business. The more you know, the better decision you can make. And check back frequently, as our content is always being updated.
"Mary is well known by many of the top Lake Lanier Realtors and they can tell you that Mary knows the Lake!"
Teresa Smith, Arthur Prescott, Sheila Davis, Patsy Bailey, Susan Moss, Norman Moolenar, Larry Ness, Tricia Williams, just to name just a few.